The Hocking Hills Observatory
|
home


The "Shed" Part II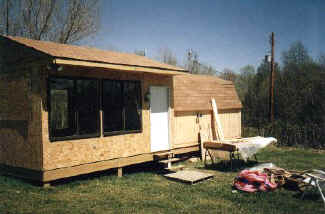 Construction begins on the porch. The 12 x 16 ft. deck is finished in a week, then rain sets in for the next two weeks. We found a deal on some commercial picture windows. The wheels begin to whirl! we decided to start framing walls and the next thing you know we are building a den. The den is really laid out – ceiling fan, wall to wall carpeting, compass on the ceiling, air conditioning, and propane gas heat. The exterior is finished in pine logs, tongue & groove barn siding, and trimmed in cedar. It turned out great, but we still wanted a screen porch.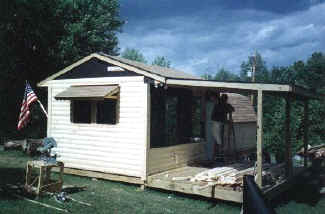 Next project? Of course, a 10 x 16 ft. screen porch. With only a rough idea in our mind (don't need no stinkin' plans) we begin another classic "one board at a time" construction project. It took about a month to completely finish the porch. It is really nice; ceiling fan, deck chairs, table... it's the ultimate mosquito trap.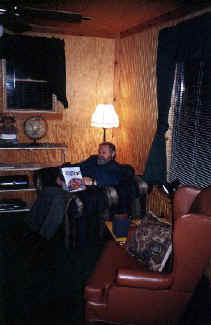 We now have the perfect indoor and outdoor sanctuary for smoking good cigars, resolving world issues and discussing astronomy opinions about the universe and beyond. Notice how at homey the den looks.
"Nice Shed! Duuudes" was all we heard from hecklers. To them we say... "HA"!!!
We come to the realization that "the shed" has turned into a warm room project gone wild. After much discussion we decide that another expansion is needed; we must build an observatory.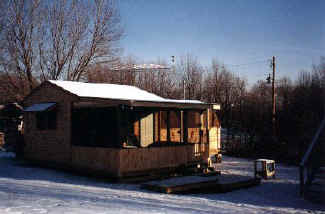 The Think Tank
A great to smoke good cigars, watch the Sun set, contemplate the universe and beyond... and solve the world's problems.

<!-onMouseover Link CSS Script-© Dynamic Drive (www.dynamicdrive.com). For full source code, installation instructions, 100's more DHTML scripts, and Terms Of Use, visit dynamicdrive.com-->