The Hocking Hills Observatory
|
home

back to

Christmas Eclipse 2000

Christmas morning, I broke out one of our grab and go scopes and set it up in my downtown city back yard. The most amazing thing happened.... the skies in central Ohio cooperated enabling us to see an astronomical event! Oh yea! The skies were crisp (a crisp 8 degrees) and the sun was high. It just doesn't get much better than this.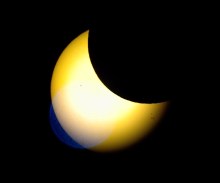 The Celestron C5+
was a great choice and today, I couldn't have been prouder of it. Kids outside playing with their new toys that Santa brought, came over to see what the strange man was doing. Before long, I had a crowd of kids who had never imagined a thing like this. Then came the parents. They too were wowed by the whole experience. I know this sounds silly, but city folks don't usually see any higher than the street lights.
I passed around Solar glasses
(the free ones from Astronomy magazine seemed to be the best) and everyone took turns with them and the telescope. I enjoyed answering everyone's questions (glad they weren't too tough) and it made me feel warm on this bitter cold day to see the expressions on the young one's faces who witnessed this once in a life time event.
After the cold drove the people back to their homes, I thought I would try something new. I took my hp C200 digital point and shoot camera, held it to my Celestron Ultima 35 mm eyepiece and took three pictures. Wow! They were great! I took first two pictures with normal settings and the third at 2x power. The above photo's were not enhanced.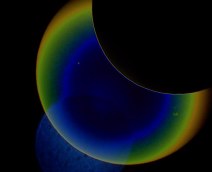 Special effects on this photo were done in a photo editor that came with my printer. All I did was click on "Solarization" and voile. I thought it was kinda' neat. "Solarization" seems to make the brightest areas darker.
Click on any above photo to enlarge.
We hope you were able to see this event, it was great!
Stuart & Joe
The Stargeezers