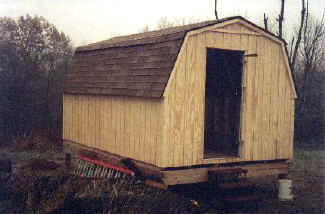 Our odyssey begins the week of Thanksgiving 1997. The original idea was to have a storage facility for our telescopes and related equipment. Over the years you get tired of loading and unloading your telescope and other equipment, so we thought it would be nice to have everything on site. People have always thought we were rather eccentric and the following pages will help prove them right.
Like everything we do, we shopped and brainstormed this project to death. It was decided that we would purchase a ready built shed from a local builder. The 10x16ft. foundation was built over the next three days. Using 4x6's as the piers and 2x12's for the floor joists, it was then covered with 1/4in. plywood. The plywood aided us with sliding the shed on the foundation and gave us a doubled wall floor to add insulation as a bonus.
The shed arrives on a rollback truck and with a little help it slides into place. On Thanksgiving Day, with a little grunting and groaning, the shed is nudged into its precise north-south alignment. This is the official beginning of "The Shed".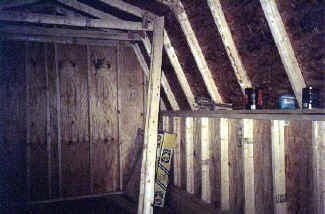 First on our list was to make it weather tight. We ordered it without a door and luck was smiling on us when we found a steel vault type door with multiple bolts and a steel frame. We figured this should do the job. After a little conversation with the rafters, the headroom was greatly improved. With the door in place it was "really" dark inside. Pella windows were installed on the east wall and behold we had light. Cold weather was fast approaching. We borrowed a generator to aid us in the use of power tools and for electric heat. Real electric came later after planting power poles from the road to "The Shed".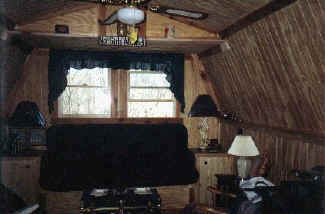 Soon to follow was extensive electrical wiring, cherry wood flooring, oak cabinets, natural wood paneling, a refrigerator, air conditioning, and a recessed ceiling fan. Now we're talking about a suitable storage shed for our equipment. A custom built fold out sofa opens to hold tripods and other accessories and the trunk houses our Meade LX3 8in. telescope.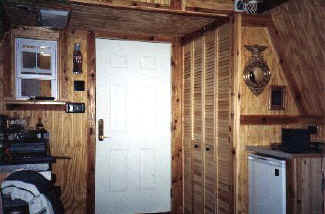 The closet behind the door is home to "Big Bertha" our 13.1in. Coulter Odyssey reflector. By early spring "The Shed" was technically finished but Stuart wanted to add a deck, maybe even make it a screened in porch, Joe had other ideas.