To Catch A Comet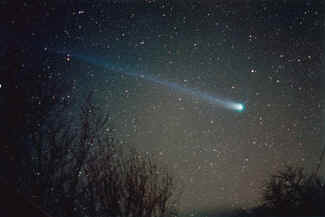 Our mission, to catch a comet ... on film anyway. We did it in spite of ourselves. The first clear night we had for serious viewing of Comet Hyakutake was Monday March 25-26, 1996. Joe and I setup the telescope like we have hundreds of other times and took careful precautions to be sure it was polar aligned. Polar alignment is the calibration of the telescope to track the stars which always appear to be moving because of the Earth's rotation.
After careful calibration, we could not get the telescope to track the stars. We checked and rechecked everything we could think of and still no success. After half an hour we decided the telescope was pointed backwards (that Joe) ... our excuse was "We always look at things in the southern skies not the northern skies." After correcting, we were smoking.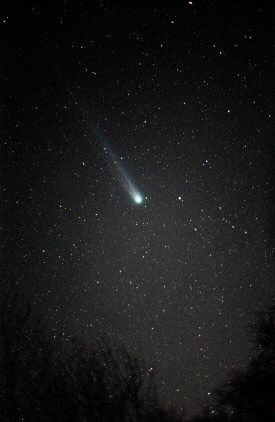 "OK, let's get some pictures of this once-in-a-life-time comet." In all of our years of looking into the heavens, we have never seen a more spectacular sight than Comet Hyakutake and we wanted to share it with the world. Joe and I are professionals (ha) but you can try this at home. I bolted my camera to the telescope and commenced to taking pictures. Everything was perfect ... the sky was clear, the moon was out of the way, the telescope was tracking, and the temperature was tolerable.
Taking a snapshot of the heavens is no easy task. You must leave the shutter open for three minutes to sometimes sixty minutes or more depending on many variables. You can appreciate how taking 10-15 shots in one night can be almost impossible. Joe and I are professionals, we did it and were meticulous about it.
Not one for wasting exposures, the next morning I took pictures of my house, my truck, and anything else to use the rest of the film before developing. I rewound the film and went into a semi-dark room to remove it from the camera ... Yea you guessed it ... no film in the camera. Sometimes life will play little jokes on you.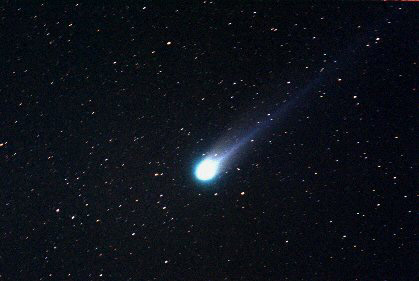 The heavens must have smiled with us, for the very next night (Tuesday March 26-27, 1996) everything was perfect for astrophotography. The only little problem we had was the temperature (it was about 18 degrees below absolute 0). Joe and I took about 15 pictures of the comet and it was the only time in my life that all of them were good. Usually only about one out of a hundred astrophoto's are keepers.
The accompanying pictures prove that with a little perseverance anyone can take a good astrophoto in spite of themselves... Go ahead and try it. In the mean time "Keep looking up".
Mission Accomplished!
— Stuart Little & Joe Fiume