Built and operated by:
Stuart Little
Joe Fiume
Introducing The Stargeezers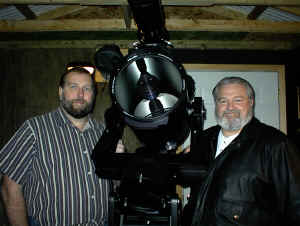 Hi! That's us on the right, Joe and Stuart -- the Stargeezers. We're two good ol' boys who like to look at the stars and in our spare time solve the world's problems. Time is of a premium to us, so we set out to solve one of our biggest problems, the amount of time it takes to setup and pack up our telescopes and equipment (we also kept loosing things in the dark). The obvious answer-- build an observatory! Our story is simple, yet very amusing. Adhering to our motto "Don't need no stinkin' plans" what starts out as a storage shed for our equipment, has turned into a two building, five room compound. It's not like we got carried away or anything, but this is the perfect example of what happens when you have too many chefs in the kitchen. Follow our story from "The Shed" to "The Observatory" it contains pictures for the men and words for the women so everybody can enjoy. So kick back, crank up your speakers, have a good time, and click on "The Shed".
Hey Grandpa! What are Stars?
The Hocking Hills have some of the darkest skies in Ohio but light pollution is quickly gaining on us. To help preserve the night sky, please use motion sensors or switched security lights (if you gotta have one) and shield the light downward. Due to light pollution, stars are fast becoming an endangered species. One day naked-eye stars will be a thing of the past and you may hear "Hey Grandpa, what are stars?" A plaque hangs on the observatory wall that reads "God made the skies dark that He may see the stars". Let's not let Him down. Enough with the soap box speech, let's get on with our story "The Shed".